Guide to BMW Warning Lights: What Do They Mean?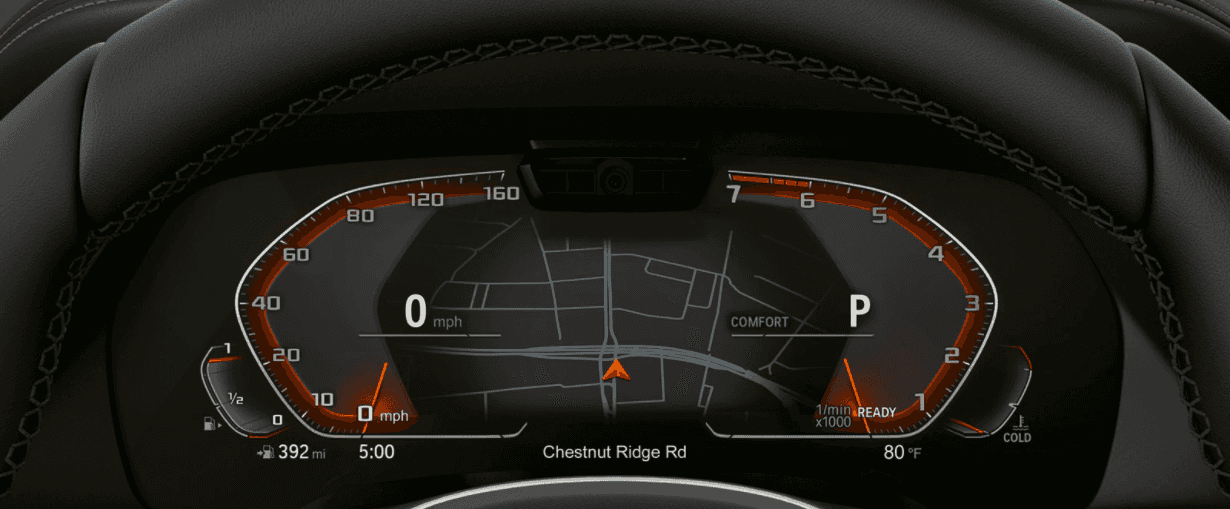 BMW is renowned for manufacturing high-quality luxury vehicles, but even the very best vehicles occasionally have a warning light pop up on the dash now and then. Tenafly drivers wanting to know more about BMW warning lights meanings or BMW service indicator light meaning can learn more here. Read on so that you recognize the symbols of BMW dashboard warning lights, and of course, if you need service, bring your vehicle to BMW of Tenafly or give us a call.
---
---
Maintenance BMW Dash Warning Lights & Service Symbols: Explained
While the BMW dashboard warning lights may warrant an immediate trip to the BMW of Tenafly service center, some BMW service symbols indicate simple fixes you might even be able to do on your own, including:
Red BMW Warning Lights & Symbols
Front Safety Belt: When this light is on, it means that either the front passenger or the driver needs to fasten their seat belt.
Braking System: When this BMW dash warning lights up, it means a potentially serious problem with the braking system, and you should visit a BMW certified service center right away.
Parking Brake: This BMW dash warning light's meaning indicates that your parking brake is engaged. If you've already disengaged your parking brake and this BMW warning light is still on, you should visit the BMW of Tenafly service center near Fort Lee. Sometimes the warning for this is just the word "BRAKE."
Airbag/Seat Belt Tensioner: When this light is on your dashboard, it could mean a potential problem with either your airbag(s) or seatbelt tensioner(s). These BMW crucial safety features should be inspected by a BMW certified technician as soon as possible.
Rear Safety Belt Off: This BMW warning light symbols that someone in a rear passenger seat does not have their safety belt on.
Yellow BMW Dashboard Warning Lights & Symbols
Antilock Braking System: When this BMW dash warning lights up and stays on constantly, it indicates that your Antilock Brake Assist feature may not be functioning properly. It might also come on momentarily when Brake Assist is automatically applied to your brakes.
Engine: When this BMW dash warning light flashes or stays on, you need to have your vehicle serviced immediately because it means there is an issue with your engine, its emissions, or its engine components.
Steering System: This BMW warning light symbol means that your BMW's steering system has an issue and may not work properly or the power steering on your vehicle might be unavailable. Call the BMW of Tenafly service center and we will fix it and have you back on Cresskill roads in no time.
Tire Pressure Monitor: If this BMW warning light comes on it means that one or more of your tires is under-inflated. A yellow light means the tire pressure is down by around 10%, and a red light means the tire has deflated rapidly and could be flat.
Dynamic Stability Control Off: This BMW warning light symbol indicates that Dynamic Stability Control has been deactivated.
Dynamic Stability Control: If this BMW dash warning lights up continuously, you should have your car serviced, as it could indicate a problem with Dynamic Stability Control. It should also come on whenever DSC is engaged.
BMW of Tenafly is Always at Your Service
Now that you know more about BMW warning lights and service symbols and their meanings, feel free to reach out if you have any other questions! In good times and bad, BMW of Tenafly, near Closter, is here for you — we can even help with at-home service like learning how to jumpstart a car, how to program a BMW key fob, or about BMW ConnectedDrive® services! We're always happy to answer your questions. Call our service center to make an appointment today and review our competitive service offers before heading into the dealership. You can also count on our BMW collision center for your car repair needs!